Hotel Neon are Andrew Tasselmyer, Michael Tasselmyer, & Steven Kemner. Fresh off of their West Coast tour with Marcus Fischer and Benoît Pioulard, the three personal idols and masters of their craft released their tour exclusive new work "Inward" via Bandcamp on October 22nd.
Label/Cat#: Not On Label (Hotel Neon Self-released)
Country: US
Year: 22 Oct 2018
Genre: Electronic
Style: Ambient, Drone, Lo-Fi
Format: Digital, Cassette
Tracklist:
1. Side A (23:22)
2. Side B (26:08)
Total length: 49:30
AG's favorite track: Side A (23:22)
Why it's a standout release: Sonic inspiration for AG; caused immediate autonomous sensory meridian response in the first two minutes of the intro to "Side A".
Relax and listen to Hotel Neon.
"Inward" immediately opens with a beautiful array of sonic illumination contained in "Side A," with cinematic beauty one would expect to see at the break of dawn whilst watching the beautiful sun rise. In the mix, obvious audible heartfelt strings are clearly present. Field recordings are featured: beautiful birds and surrounding crisp and earthy sounds can be heard throughout "Inward". When I close my eyes and listen to this coined "dense, radiant drone," Side A is a truly uplifting ballad that openly expresses the notion that anything is possible with true dedication to the task at hand… At around 05:50 in Side A, field recordings slow to harmonic melodies with playful sound effects as the central theme to Side A is slowly echoed and reflected. Similarly, at around 15:00 on Side A, Hotel Neon gives listeners a chance to experience their drone sound for around a minute and a half, until revealing interesting textures and downtempo notes later on. Side B features more deep inspired radiant drone over a 26 minute ride through textures and intelligent dance music: lo-fi melodies and reflective noise.
This piece truly emits feelings of hopefulness, strong inspiration, and a reflection piece that is more than itself. 20 minute+ mixed cassette sides give artists the chance, as featured here, to tell a deep story through melodious serene soundscapes.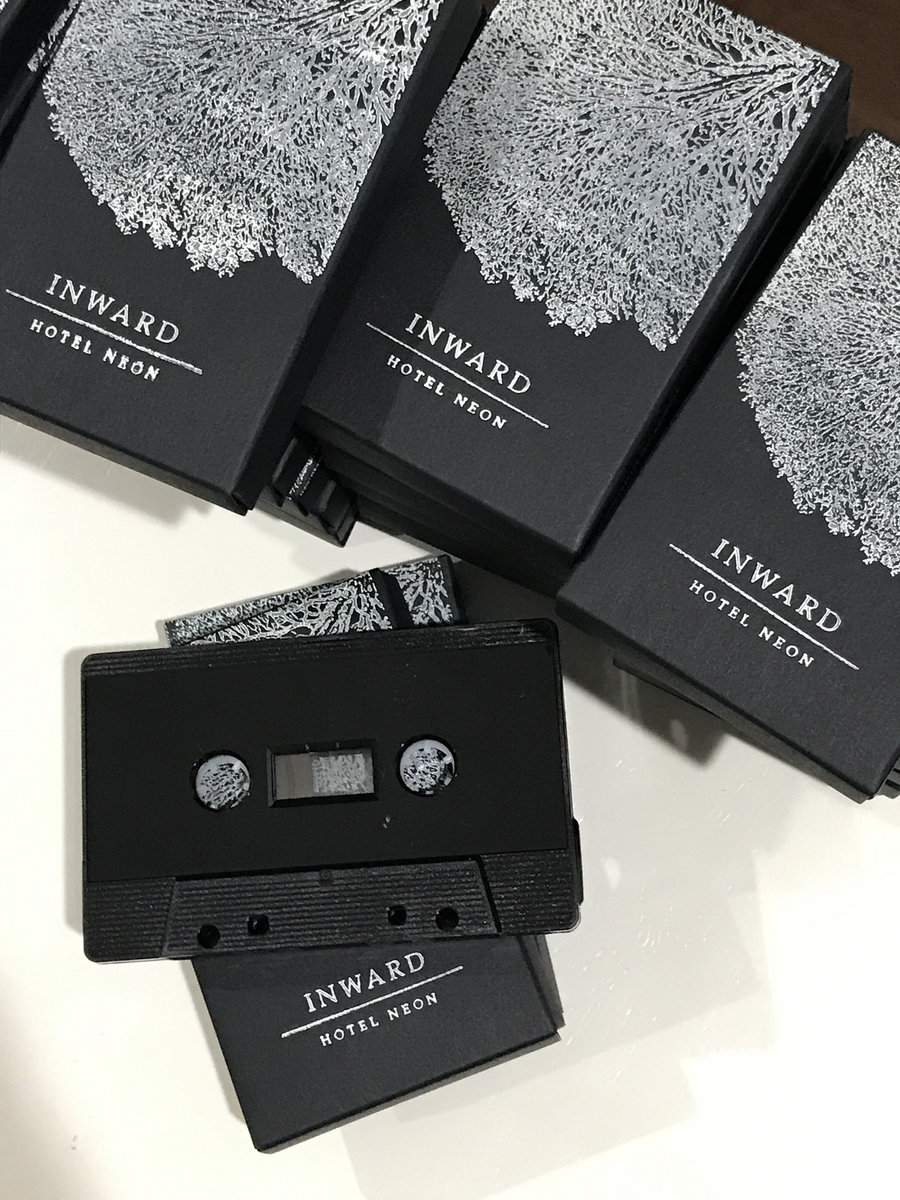 Credits //
Written and recorded by Hotel Neon // (hotelneonmusic.com)
Mixed by Matthew Kidd // (slowmeadow.com)
Mastered by Ian Hawgood // (homenormal.com)
Support Hotel Neon by purchasing a copy of their tape before the limited edition supply runs out. Thanks to Hotel Neon: Andrew Tasselmyer, Michael Tasselmyer, & Steven Kemner for releasing strong ethereal melodies for inspiration at any time of the day…